I'm back.. extremely pregnant.. and living in España (insert salsa dancer emoji here — she's my new spirit animal).
When I first found out I was pregnant, an episode of Keeping Up With the Kardashians instantly popped into my head. I distinctly remember Kourtney saying, multiple times, how much she loved being pregnant and how amazing it was. Obviously, because that show is 100% reality, I assumed my feelings would be the exact same. Lets fast forward 3 weeks: me laying on the floor of the shower for 30 minutes — don't worry, I was in France, no drought concerns. For the next 5 weeks, this is the only place you could find me where I didn't feel miserable. Sick as a dog, all day, every day. No food, just watermelon and apple juice to keep me going. Kourtney obviously lied to me, and every other woman who plans on conceiving.
Things got better after those 5 weeks, and the all-day and night sickness faded away. I'm sitting here, just beginning my 3rd trimester, eating the spanish version of sour patch kids… I've come a long way. I've avoided buying maternity-specific products, but there are a few things that have absolutely saved me, and can still be used post-babe. Check out the items below that are absolute must-haves for your 9 months of alleged bliss: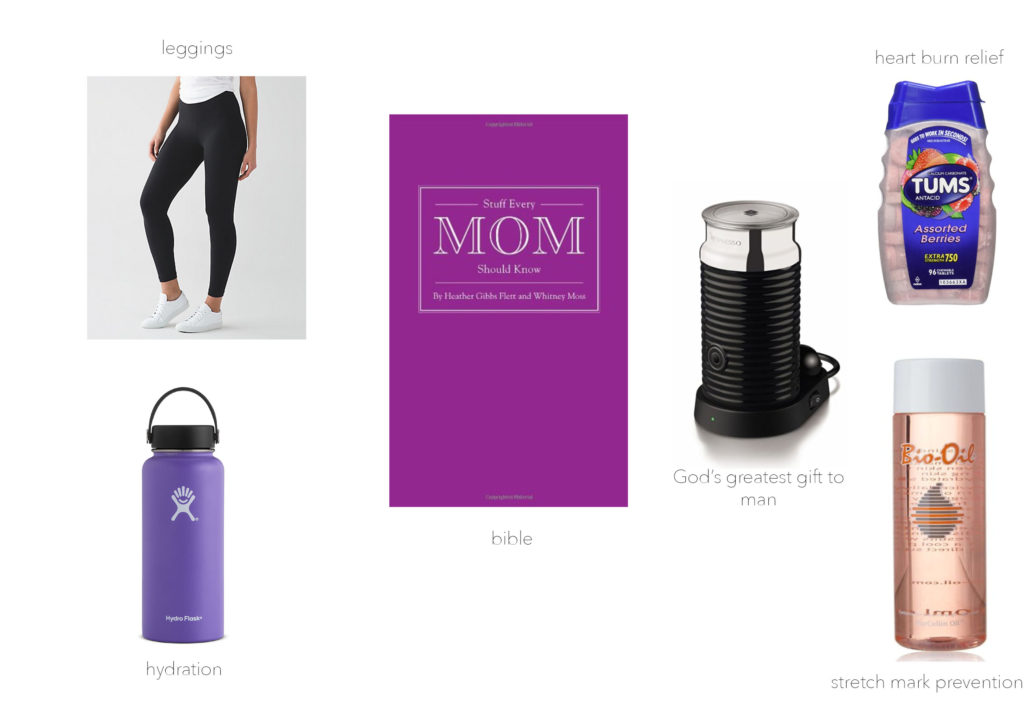 leggings: I was a sight for sore eyes as I waddled into lululemon 3 weeks ago. I felt like a sausage that had just been shoved into its casing.. more grouchy than a little rattlesnake. We were in LA getting our visas to come to Spain, and I was trying to find a pair of leggings that were cute, and wouldn't cut across my ever-expanding belly. The saleswoman suggested the Align Pant II. I didn't even try them on until we arrived in Spain. BEST LEGGINGS EVER. Apparently they're nicknamed the "naked pants". They are so soft, and stretchy and amazing. I can't say enough good things about these cuties. Best purchase I've ever made at lulu. I know I will be wearing these long after the baby weight is gone.
hydration: I left my Hydro Flask, in the cup holder of my mom's truck at the airport, but thankfully I've stolen my husbands. Apparently this baby is stealing all sorts of things from me while he's in there, and it was a challenge for me to stay hydrated all day, at first. The size (32oz) of this Hydro Flask is great because you don't have to constantly be refilling it, and it keeps my water cool for hours. Again, this is a product that isn't pregnant-specific, and can be used for forever. Highly recommend.
bible: We didn't get back to the sates until I was 2 months pregnant, so I immediately started buying pregnancy books to catchup on all things 'mom'. For some reason, most of the books I read gave me more anxiety about birthing and being a mom, than they helped. Something is probably wrong with me, and this effect is abnormal, but regardless, I stopped reading those books all together. Then I was gifted this pocket-sized book at my baby shower, and its exactly what I needed. Its very matter-of-fact, mostly bullet points, and a lot of simple information that a first time mother wouldn't have the slightest clue about — at least thats what I'm telling myself, because I didn't know ANY of the information I read about in this book.
heart burn relief: If what they say is true, about having heart burn while your pregnant means that your baby will be born with a lot of hair, then I must be giving birth to a grizzly bear cub. I understood when I first started getting it, that I needed to back off the spicy foods (so sad), and acidic foods — like tomatoes — but I was completely shocked when I started getting heart burn from drinking WATER. This little guy has a sick sense of humor. Anyway, I have TUMS next to my bed, I have them downstairs in the pantry, and I carry them in my purse. It may sound excessive, but its so necessary. I can't tell you how many times I've woken up in the night with the absolute worst heartburn, and the TUMS provide immediate relief.
God's greatest gift to man: This is an item that I feel like I've been needing my whole adult life, and never knew I needed it until I had it. The Nespresso milk frother is life. It was left in our townhouse by the couple who lived here last season — God bless them. I'm only allowed one cup of caffeinated coffee a day, so I usually just stick to (2) decaf coffees instead. If I'm feeling wild on a Wednesday I might have that (1) cup of caffeinated, but only if I'm feeling wild (again, enter salsa dancer emoji here). How it works: you simply poor a splash of milk into the machine, press start, and in under 30 seconds you have the perfect amount of warm milk and foam to pour over your coffee. The more I think about it, this has nothing to do with being pregnant, and everything to do with enjoying products that make life lovely and simple.
stretch mark prevention: I feel extremely lucky to be starting my 3rd trimester, and haven't spotted a stretch mark yet — knock on wood. At the beginning of my 2nd trimester, as recommended on the back of the bottle, I started using bio oil on my belly, hips, and boobs — everywhere women traditionally get stretch marks during pregnancy or weight gain. Bio Oil keeps my skin feeling so soft and hydrated, and from what I can tell its helping prevent stretch marks.
Hoping this list of products is helpful for those thinking of becoming pregnant (be careful, its a wild 9 months), or already are pregnant.
Happy Monday!
xo