My grandad always says "houseguests are like fish, they start to stink after three days". While being awesome words of wisdom, surely it depends on the houseguest, right?
I enjoy hosting. It gives great motivation to get your home in order, probably upgrade a few things, and get the deep clean done thats been on your to-do list for the last 3 months. See below for a few ways to turn your guest room into a beautiful relaxing space: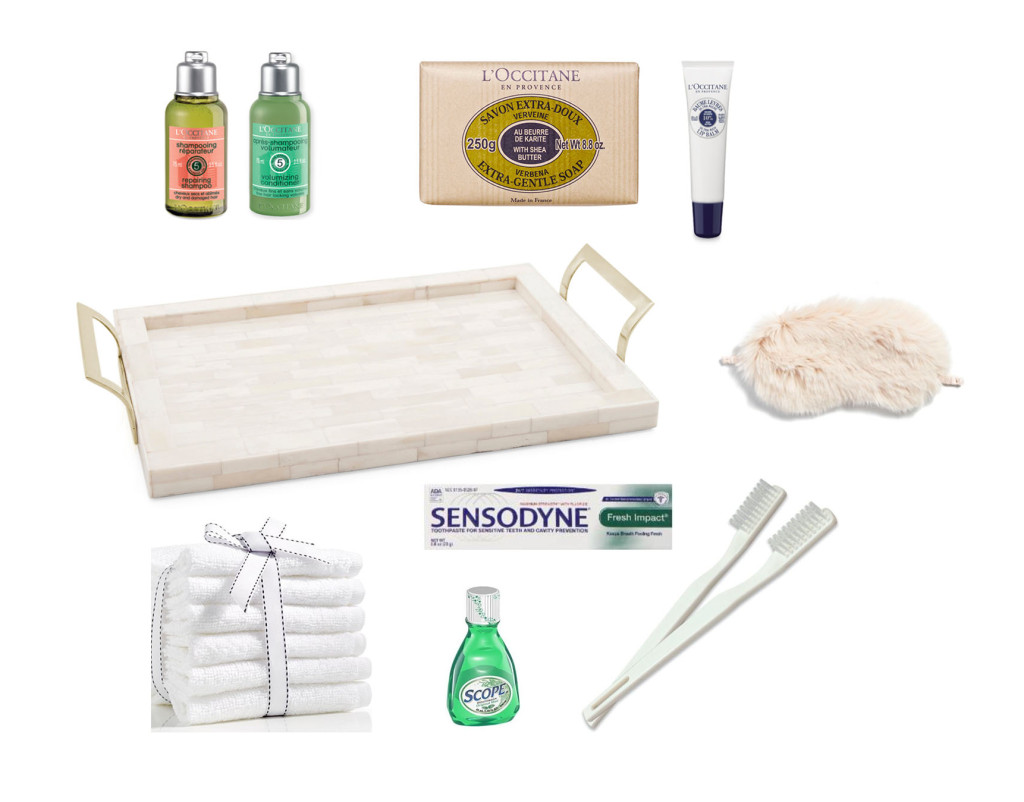 I love the idea of walking into a guest room, and having this tray of goodies sitting at the foot of the bed. It tells me two things: 1. My host loves me and took extra time preparing for my arrival 2. They know I'm an idiot and forgot half of my toiletries while packing.
Shampoo & Conditioner: If you haven't already noticed, I'm pretty much obsessed with L'Occitane. Their products smell wonderful, the packaging is great, and most importantly they're high quality. Putting travel size products on your tray makes your guest feel like these are just for them, and they can take them with them when they leave — Side-note: if you agree with Grandad's theory, travel size products encourage your guests to stay only as long as the shampoo will last.
Bar Soap: It seems like everyone has some sort of strange allergy these days. This bar soap is made for sensitive skin, which is helpful, as you don't want your guest to leave your home with a rash and gross memory of their stay.
Lip Balm: Something that would easily slip your mind as you're frantically packing last minute for the holidays. I love that this is made with Shea Butter, and will keep your guest's lips soft and supple. Nobody wants to have morning coffee with lizard lips.
Sleep Mask: This is really only necessary if your guest room doesn't have window treatments that block out the morning light. Crabby guests are no fun, so you want to make sure you give them the best opportunity to sleep well. But lets be real, who doesn't like a soft pink, faux fur sleep mask? This cutie can be shoved in the washing machine, on cold, in between stays to make sure its always fresh and free of eye boogers.
Toiletries: Like I said, I can't tell you how many times I forget my darn toothbrush when I'm packing. It drives me nuts, and is also mortifying asking if your host has an extra. These toothbrushes are disposable, and you can buy them in bulk so you'll always have them ready to go when a guest arrives. Forgetting my toothbrush also means I definitely forgot my toothpaste, and even worse, my teeth are super sensitive so I have to use Sensodyne. Help us sensitive sally's out and put a travel sized tube of this on the tray, just in case. I like to think of the mouthwash as an added dental hygiene treat. Hint: utilize your Amazon Prime membership when ordering the toiletries — convenient and cost effective.
Washcloths: I always feel uneasy about washing my face with someone else's white wash cloth. By putting a fresh stack of bright whites on your tray, you're saying "Hey, these are for you. I know you think your waterproof black mascara is going to ruin them, but I know how to use bleach". — these are also on sale now at Macy's, just in case you haven't mastered the art of extreme bleaching.
Tray: My favorite part of the Houseguest Haul: this gorgeous bone tray with brass handles. What a perfect vessel to hold all of these travel sized amenities. The best part of this tray is that its multifunctional, it doesn't just work as a presentation piece when you have overnight guests — layer it on a coffee table with books and a vase, or use it on your bart cart. 3 uses for the price of 1 — at least that what I'm telling my husband.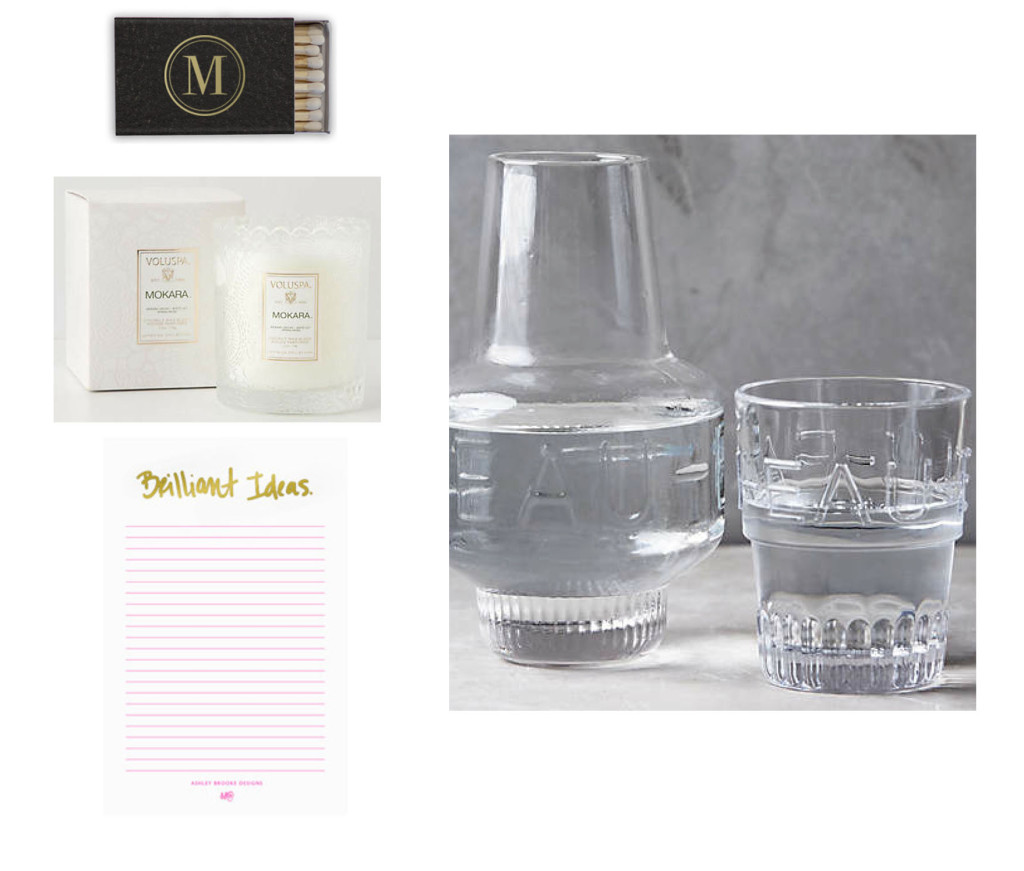 Moving on to the nightstand. Keep it super simple with a few of these updates:
Carafe + Tumbler: Having a houseguest usually means dinner is a little bit more extravagant, and more wine will be flowing that normal. Do them a favor and have this carafe filled with water on the nightstand, ready and waiting for them to wake up at 2am, thirsty as-all-get-out.
Candle: This is my absolute favorite candle from Anthro. Treat your guests to this delightful scent, they won't be disappointed.
Monogrammed Matches: Candle = need for matches. Go the extra step and get these monogrammed matches, for an added personal touch. These are sold in bulk, so you can use them around the rest of the house as well.
Notepad: Its unlikely that your guest will be jotting down short-story ideas when they wake up from inspiring dreams in the night, but it is likely that if you don't put your wifi password on the notepad on their nightstand, they'll ask you for it 500 times over the next 3-5 days. Do yourself a favor and write it down prior to their arrival.
Lastly, never underestimate the power of fresh flowers. Throw some in a bud vase on their nightstand, along with a framed family photo — with all these sweet amenities your providing, you want them to remember they're staying in your home and not at a five star hotel 🙂
Enjoy the Thanksgiving Holiday week, and cheers to you not having to deal with Grandad's kind of houseguests (hopefully).