I'm constantly impressed with the fashion in Europe. Being edgy and on-trend seems so much more doable, and affordable over here for some reason. Being impressed by the everyday Spanish woman wearing a crushed velvet spaghetti-strap tank, and a braided choker while grocery shopping is as far as I can go though. I'm not cool enough to actually participate, and I'm totally fine with that.
Sure I purchased a pair of violet velvet joggers to wear in the hospital post delivery — I'm going to try to be a cool mom — but while everyone over here is going all out 90's and seriously reminiscent of Zenon: Girl of The 21st Century, I find myself falling back on the classics of an all-American Fall wardrobe. I can appreciate all of the latest trends while quietly wearing the sandstone wool jacket, shown below, and drinking decaf coffees all day long. 'Basic' should be my middle name, and I don't care one bit. Check out my Fall & Winter staples below: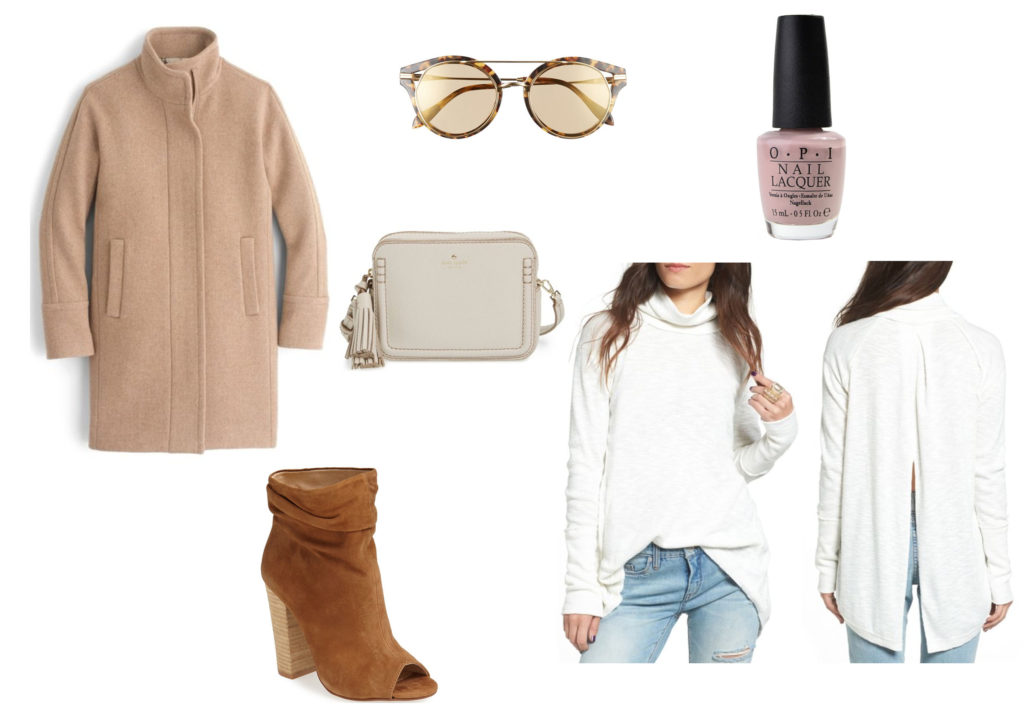 Wool Blend Coat: I've wanted a camel coat since last Fall, and kick myself regularly for not pulling the trigger. My sister just bought this is grey and its a must have. The sandstone color and fit make it a classic that will last you — thus making it an "investment piece", my favorite buzz words to use with my husband. It just feels like its meant to be in my closet, you know that feeling?
Crossbody Bag: You can only have this bag if you consider yourself semi-grown up. Why? The beautiful Crisp Linen color may require extra work to keep clean, but I think I'm ready.
Peep Toe Bootie: Yes, I have these in grey. Yes, I need them in this camel as well. These days, a heeled bootie is 100% necessary — anything to lengthen these third trimester tree-stump legs I've got going on. But seriously, these are comfortable and super cute and can transition throughout the seasons.
Tortoise Sunglasses:  I tend to lean towards tortoise frames often because my skin gets super pale in the winter. These are a lot less harsh than black, and I love love love the shape.
Split Back Turtleneck: I love this twist on a traditional turtleneck. Cute and laid-back in the front, and spice-up-your-mom-life in the back. Highly ideal (term ™ C.B.).
OPI Nail polish: It bothers me how images of nail polish never look like the color in person. This OPI color from the Germany Collection — don't fret, you can get it on Amazon — has a wholeeee bunch more nude, with a hint of dusty rose in it. I'm obsessed. Usually pinkish colors make my fingers look like little cocktail wieners, but not this little beauty. (Color: My Very First Knockwurst)
I hope your Fall Haul goes better than I envision mine going when my husband opens this in his email later this afternoon!
xo