I feel like I've started so many posts with "I never imagined my life..", but this stage of life is not at all like I imagined it. Having a baby in a foreign country, without my whole family here to watch our baby grow definitely wasn't part of the plan. Having said that, since we got married I've been pushing myself to acknowledge that most of whats going to happen over the next 5 years wasn't ever part of my plan, by my God, how small my thoughts must have been before? How exciting and challenging our ever-changing plan is now? How much bigger has my world become? How many beautiful, fantastic people have we met on this wild ride? — I say these things to myself when I'm having hard days.. where I miss my small mind, and my small world, and my mom.
Putting together our little guy's make-shift nursery has been a fun challenge — keeping it super simple & way under budget (we have to leave everything here in May, as always, so there is no re-using for the next baby). Check it out: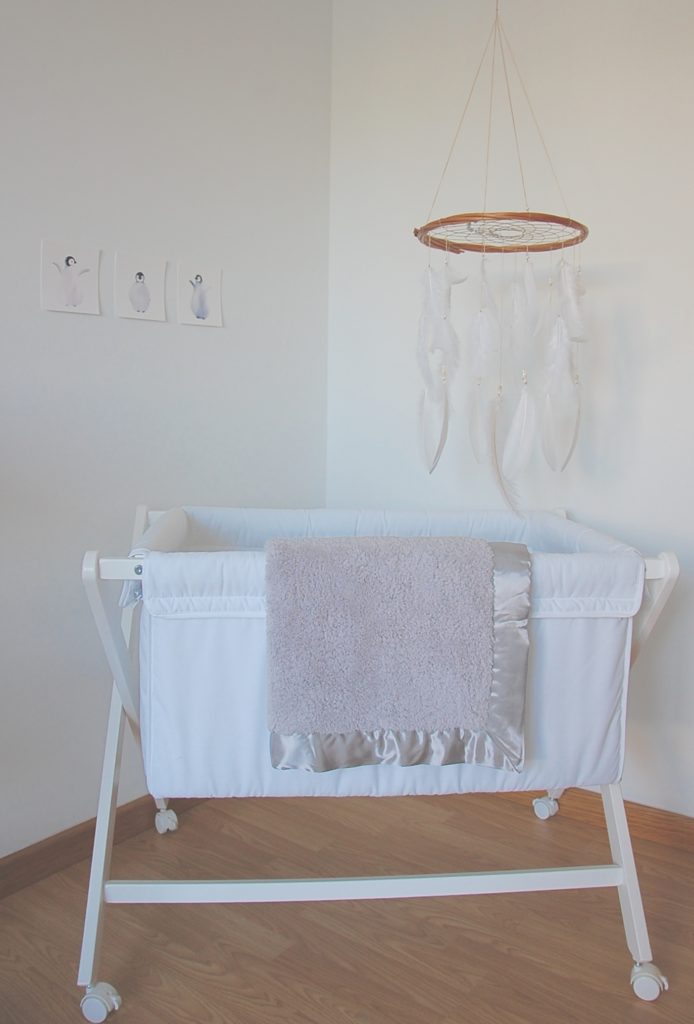 We (yes, we) chose this mini crib from Zara Home for size and portability. He'll be snoozing in this only until he's 5 months old, and then we'll head back to California. We set up his nursery in my office, so the lightweight + wheels on this crib are perfect for moving it all over the house. The blanket was a shower gift from Nordstrom, and might be the softest thing ever.. also the most perfect shade of grey.
I found the dreamcatcher on Etsy, and loved the idea of putting a twist on the traditional mobile. My Gummy (grandma, but a million times cooler than the standard grandma) used to have them all over her house, so every time I walk into the room, she's the first thing I think about.
The penguin prints are also from Etsy, and ode to my best gal pal. She loves penguins, and these chunky little critters couldn't be cuter for our nursery.
Setting up the changing station, I felt like a fraud. Beyond the actual changing pad and cover I have no clue what will be most practical & functional for this space… so naturally I guessed, and now am just hoping for the best. Its likely this will change after he gets here, but for now, this works. The baskets & wastebasket are all from Ikea, and we ordered the changing table off Amazon.es (I linked a similar one — in design and cost — from Amazon), as well as the changing pad cover.
I found both of these prints on Etsy, the same vendor who painted the three chunky penguins. The bear on the left is a custom piece she painted for us, and the cactus was a painting she already had listed. I wanted our little guy to know, even though he was conceived in France & born in Spain, he has American blood running through his tiny veins. The bear is from the California state flag, and the sunset and cactus skyline represent Mick's home state of Arizona — so deep, I know.
So there it is, two tiny corners of my tiny office dedicated to a tiny human who will hopefully decide to grace his with his presence, like.. today. Please.
xo