Its that time of year again (I still can't believe it), and our little clan has arrived back overseas. As I said in my past post, this basketball season we've found ourselves setting up shop in the northwest region of Spain. So far we're loving it — the people, the food, and our new home.
This team is amazing and gave us a 5 bedroom town home, with a little backyard for Boone. That gives us a Master Bedroom, three Guest Bedrooms, and a small Office / Nursery. As much fun as it is to have space for any and all visitors, it also has me rushing to get the rooms properly set up… so last week I found myself waddling through the maze that is Ikea. 99% of their inventory doesn't appeal to my taste in the least bit, but every year I find a few fantastic little gems. Not only do I like the way these pieces look and function, but I don't feel bad about buying them and leaving them at the end of the season because they're cheap, cheap, cheap. See treasures below: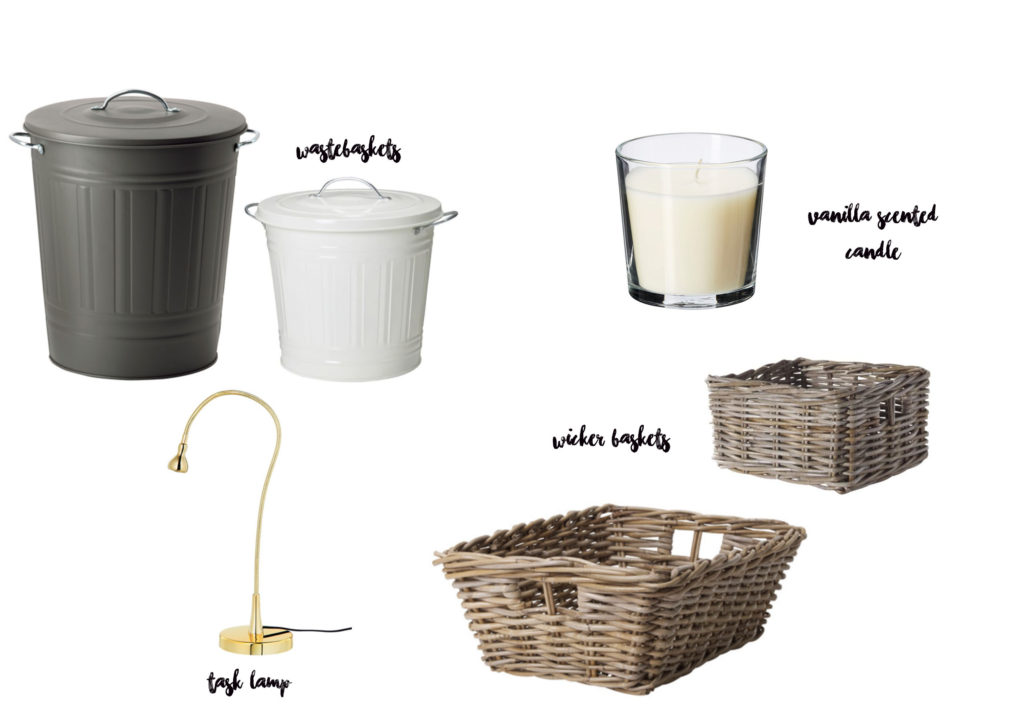 Wastebaskets: I love love love these, so obviously I needed one of each color. I'm using the matte gray 11 gal. ($24.99) as a dirty clothes basket in our little boys nursery, and the matte white 4 gal. ($14.99) — in person these look matte cream, not glossy white as they do on the Ikea website — as a recycling bin in our kitchen.
Task Lamp: How lucky to have my own little Office Space in our new home — by "my own" I mean no boys allowed, until our little guy arrives at the end of November, and then it will be a shared nursery. No adult boys ever = no judgement when I'm binge watching the Kardashians and RHOC. I brought a few office supplies and things from the states, and found other items (like my bulletin board) on Amazon.es, but needed a small task lamp. Enter this adorable LED lamp with an adjustable arm ($9.99). I was unable to find in on the US site in the gold finish that I bought here, but they have it a matte white finish that I love also.
Vanilla Scented Candles: Candles aren't cheap, ever. Unless you go to Ikea and get these for $1.79 a piece. I hoard these.. like actually hoard them. I think my husband was embarrassed as I practically shoveled them into our cart. I have no shame.. these bad boys smell wonderful and they're a simple way to make your home feel cozy, and smell lovely. I don't feel badly burning them, because they're inexpensive, so I pretty much have them in every single room. Do yourself a favor and get these.
Wicker Baskets: These (alleged) handwoven  baskets come in two different sizes and are multifunctional. I registered for similar baskets from Pottery Barn Kids for our baby shower to use in our little guy's nursery, and was soooo sad when I had to put them in our storage unit. You can imagine my delight when I found these at Ikea, for a fraction of the price. I bought two of the smaller square baskets ($7.99) for his everyday-white-onsies and socks, and then one of the larger baskets ($12.99) to use as a diaper caddy — I hear babies use diapers like they're going out of style, so I figured bigger would be better.
The moral of the story is, Ikea rules, .005% of the time, and I'm fine with that. All of these products are inexpensive — the wicker and wastebaskets are so multifunctional, the candles are necessary staples, and the task lamp is stylish and functional.
Life Hack: should you choose to brave the Ikea maze, take an emergency Snickers bar in your purse.. it gets wild in there.
xo