For as long as I can remember, pajamas in bed were an absolute nightmare. You may as well have put me in a straitjacket. At first, I'm sure it sounds sexy: "I don't wear pajamas to sleep". The reality is sleepovers with friends are incredibly difficult when you get claustrophobic at 2am, and sweat through whatever pajamas you had tried to wear — mortifying. Sleeping in the buff became very normal to me, and I couldn't understand why my sister would get pissed and refuse to sleep in my bed with me when my parents had houseguests staying in her room.
This last visit home was a game changer for me. My body had the hardest time readjusting to Pacific Standard Time, which meant that most evenings I was passed out in the club chair by the fire by 6pm. My mom would wake me around 9pm when she was heading upstairs, so I'd stumble into my room deliriously and fall right back asleep. It wasn't until the third night that I realized I had successfully slept through the night in my thermal Christmas Pj's.
For some reason, this new chapter in my life — the Pj chapter — makes me feel more grown up. I'm loving it. I'm also loving that I now have an excuse to create my sleep time wardrobe. See below for 3 of my favorite looks for bed:
Images: Neiman Marcus / J.crew
I love this traditional ivory pajama set from Neiman Marcus. The contrast piping, and the notched collar give it such a classic, feminine look. I like the idea of rolling out of bed and strolling around my french flat with a latte in this super soft set. The short sleeves are great, but I think the Lodge Moccosins are a good idea to give a little warmth — PS. these are on sale right now, but sizes are limited.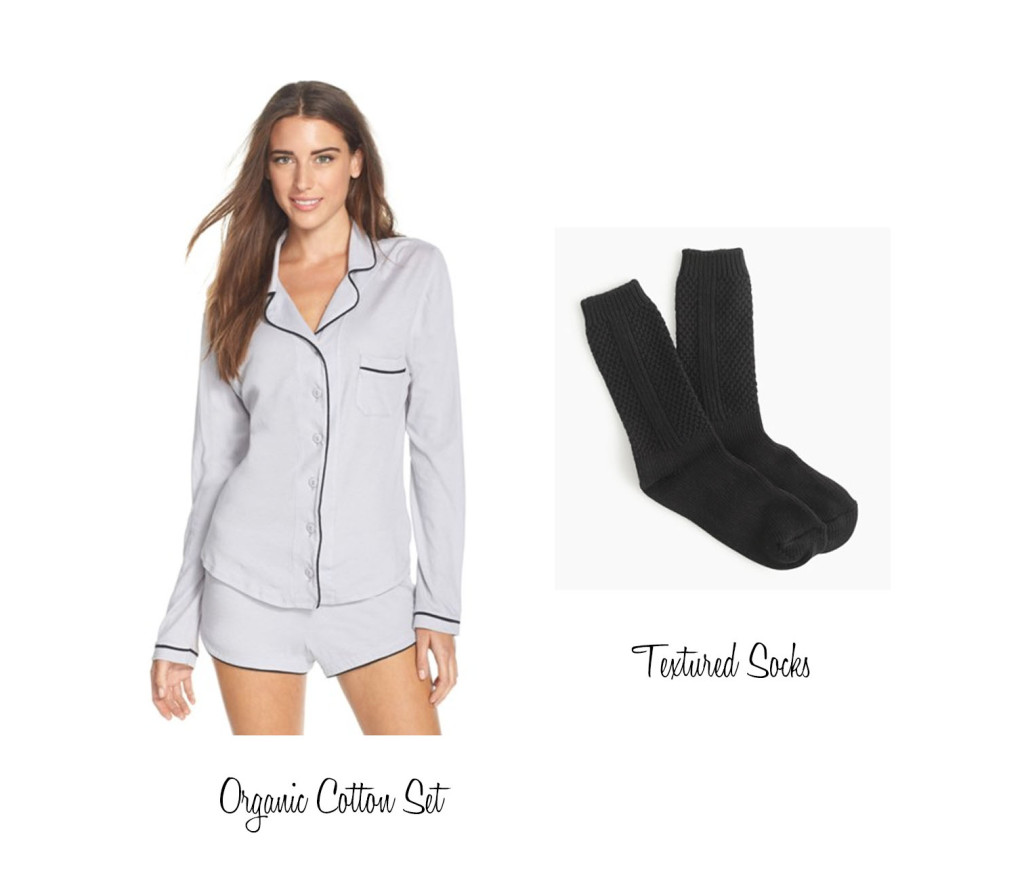 Images: Nordstrom / J.crew
Just in case its a hair chillier wherever you are, this organic cotton set comes with a long sleeve top, but still has the contrast piping and collar I love! — again, these are on sale! 40% off. The long sleeve makes it feel like you just rolled into your man's pajama shirt, but you can still keep it cute with the matching boxer shorts on the bottom. Again, always worried about staying cozy in the evenings and in the mornings, I would pair these with a these thick textured socks. The black coordinates with the piping on the Pj's, but more importantly they wouldn't show any of the dirt on your not-so-clean floor, like ivory socks would. This is ideal.
Images: Nordstrom
This last look is a good transition from not wearing anything, to wearing something to sleep each night. Its also never a bad thing to wear something slightly sexy to bed: Bralette + Lounge Shorts (these are 33% off right now). My cousin Peter had a very frank talk with me a few months ago when we were FaceTiming and he noticed that I wasn't wearing any makeup and my hair was slightly disgusting from the mask I had put in it a few hours earlier — "just because you're married doesn't mean you can let yourself go". Perfect. This option is definitely a little bit more fun and flirty. My favorite part of this look is the robe. If there is one thing you should know about me, its that I LOVE a robe. I truly think they're wonderful: comfortable, cozy, functional. Layering one over something slightly skimpy is a good idea, just in case you have an unexpected visitor stop by. Ideally you choose one with pockets — so you can still carry beers in the pockets to your coffee table, while holding nachos in your hands. 2 beers + plate of nachos = two episodes of Keeping Up With The Kardashians, without having to get up. Highly Ideal.
Cheers to growing up, and enjoying the simple pleasures in life… like a robe with pockets.