Coming back from 10 days of so much laughter, so much wine, and even more cheese is tough, but also refreshing. I fall victim to becoming obsessed with routine, and routines can cause your days to become stagnant. I had no idea how badly I needed one of my best girlfriends from San Francisco to swoop in and force me into adventure until she arrived 2 weeks ago.
There was champagne tasting in Reims, castle hunting in Amboise, and then the perfect mix of tourist activities & just sitting at cafes drinking wine and watching Paris be Paris.
To say I'm lucky is an astronomical understatement.
I thought I might go over a few stops you must make, if ever in Paris, in between all of the historical sightseeing — one of the bigger lessons I took away from my travels was there is a reason that "Paris in the Fall" is on so many people's bucket lists… it's truly stunning.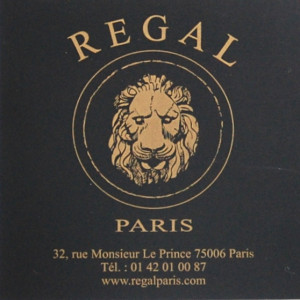 However you arrive to Paris, be it air or train, jump in to your Uber — yes they have Uber in Paris, and it's a million times easier than hailing a ride from a crabby parisian taxi — and head straight to Regal Paris  for a latte. Best latte I've had in France, why? Because they are generous with portions & they're just extra delicious. Latte → touristy sightseeing → airbnb to change out of your Air Max (yes you need these for all of the walking) → back to Regal Paris for pre-dinner wine and a cheese platter that will knock your socks off. We had pre-dinner wine and cheese there both nights: (1) because the Camembert di Bufala is life changing (2) the owner of this spot is a great human. He sat and chatted with us every time we were in there — explaining the concept behind his business, picking wine and champagne for us that would pair well with our cheeses, and everything else we wanted to know. The guy is great, and this place is fantastic. A must visit when in Paris.
After you've had your latte at Regal Paris, you'll have the energy you need to tackle a full day seeing the gorgeous historical sites of Paris — we did one of the hop-on-hop off buses (L'Open Tour) , which is a very efficient and flexible way to see all of the major sites if you have limited time in Paris. In between sites, you'll walk down the streets lining the Seine River where you'll find vendors selling obnoxious knick-knacks … but take a closer look. The prints they're selling are fun, and a good way to change up your usual habit of ordering prints from Minted, like every other person on this planet. This is a print that I picked up to have framed and hung above our coffee cart in the kitchen. A fun memory to revisit every morning.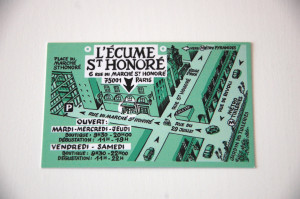 Being a tourist is exhausting, and one must remember to stop for snacks regularly — I'm thinking the Parisian women must not snack like us tourists, it would explain their petite figures and their propensity to have resting B**** face 100% of the day (kidding, kind of). L'Ecumes St. Honore is the perfect teeny tiny spot to pop into for a mid-day snack, but only if you're a fish fan. When you walk in it looks like an open fish market, shrunken down, but doesn't smell fishy at all. Everything is super fresh and the staff is incredibly friendly. Also key, they have an english menu. Their playlist consists of seagull chatter, which you would think might be obnoxious, but in reality it's relaxing and for a second you feel like you're really dining next to the sea. Their oysters and champagne were on point, most importantly.
What an awesome week and a half it was, but those last 72 hours in Paris were wonderful. Do yourself a favor and add it to your bucket list. If you can't make it to Paris, the least you can do is find the three cheeses listed in the top photo… you won't be disappointed.