I love me a good bar cart. Mine is currently sitting in a storage unit collecting dust — depressing — but I love that thing. Everyone loves a bar cart. EVERYONE. They're functional and fun to style. It got me thinking about the functionality of carts, especially in small spaces — apartment living. When we moved to France, we quickly discovered that storage clearly wasn't a priority when our building went up, especially in our kitchen. One set of cupboards below the sink, and that's all she wrote. There might have been additional cupboards, had they installed a counter space … nope. No counter space + no cupboards = no place to display and store my husband's favorite gadgets… COFFEE TOOLS. The brewer, the french press, his beloved Starbucks mug from Belgium. All of these things needed a space where they were easily accessible and displayed in a clutter free way. Enter the Coffee Cart. My new favorite cart. Although we threw together a cute little cart (from Ikea), I've been busy building my own cart for when we return to the United States and leave our current one behind. Check it out: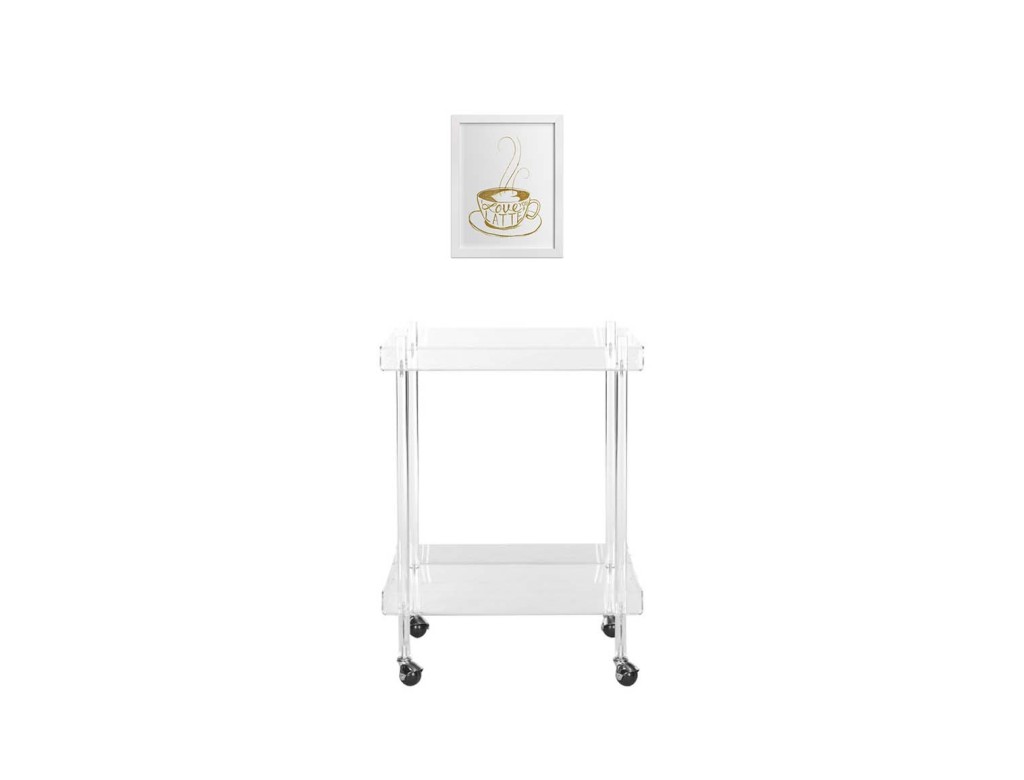 Coffee Cart: I love this acrylic cart by Safavieh. The acrylic will give your kitchen an updated, more modern look and the compact size is perfect for a small apartment kitchen — it also give you just enough room for the essentials, but not enough to clutter it up and destroy is sleek simplistic look. The thing I almost love more than the style & size, is that it's currently 20% off at Target — is anyone else super impressed with Target stepping their game up in the last couple of years with fantastic products?!
Print: Who doesn't love a good pun? I Love You a Latte, is a favorite of mine, so this print feels just right hanging above the new coffee cart. Minted offers this print in a variety of sizes, and makes it super easy to select a frame for the print too, so it arrives on your doorstep ready to hang.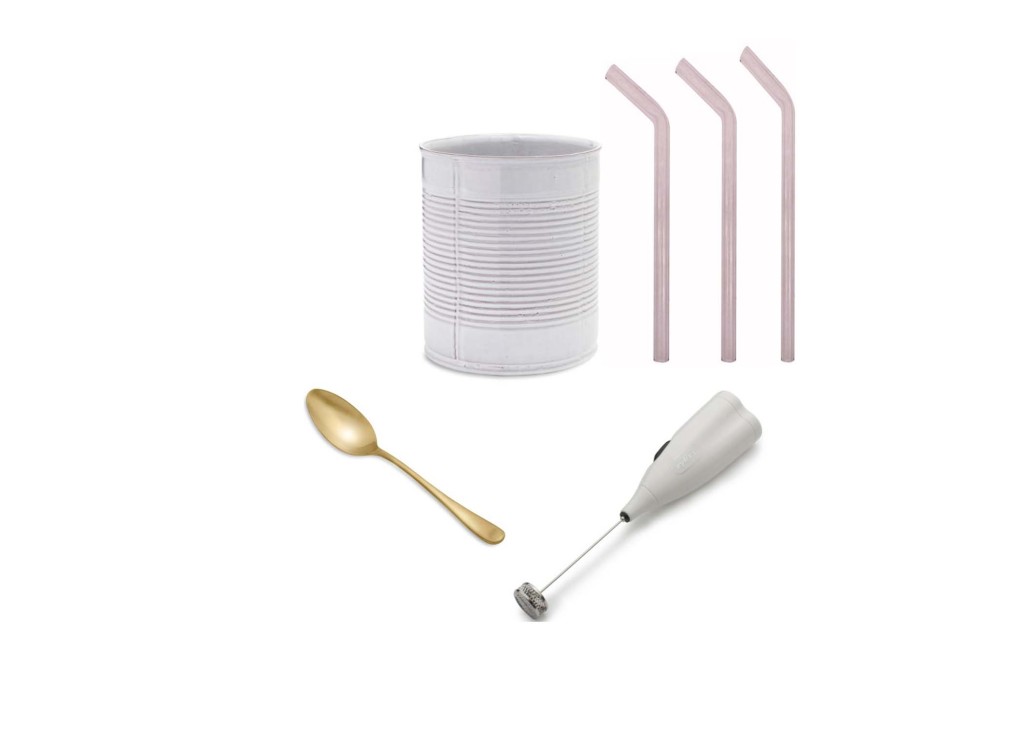 Utensil Crock: As hard as I've tried, I'll never be really cool. So while I'll have the super-cool cart, I'll need to throw something on there that isn't modern and sleek but instead looks like it's been rumbled and tumbled a bit — mixing new with the old, or seemingly old, is my favorite — and that's just what this utensil crock adds to my cart. Not only does it look great sitting on the acrylic top shelf, it's also very functional for storing small utensils you use every morning when making your latte.
Glass Straws: When I turned 27 I decided I was going to take better care of myself, so flossing and Crest White Strips have become a part of my daily routine. These glass straws are super cute, reusable, and also keep the coffee from staining my teeth. * WARNING * my mom also swears that straw usage contributes to wrinkles around your lips, so you maybe I'll need to add wrinkle cream and/or botox to my routine as well?
Milk Frother: Necessary for a delicious latte. That's all.
Teaspoons: a splash of gold is always a good idea, and these teaspoons perfect for just that.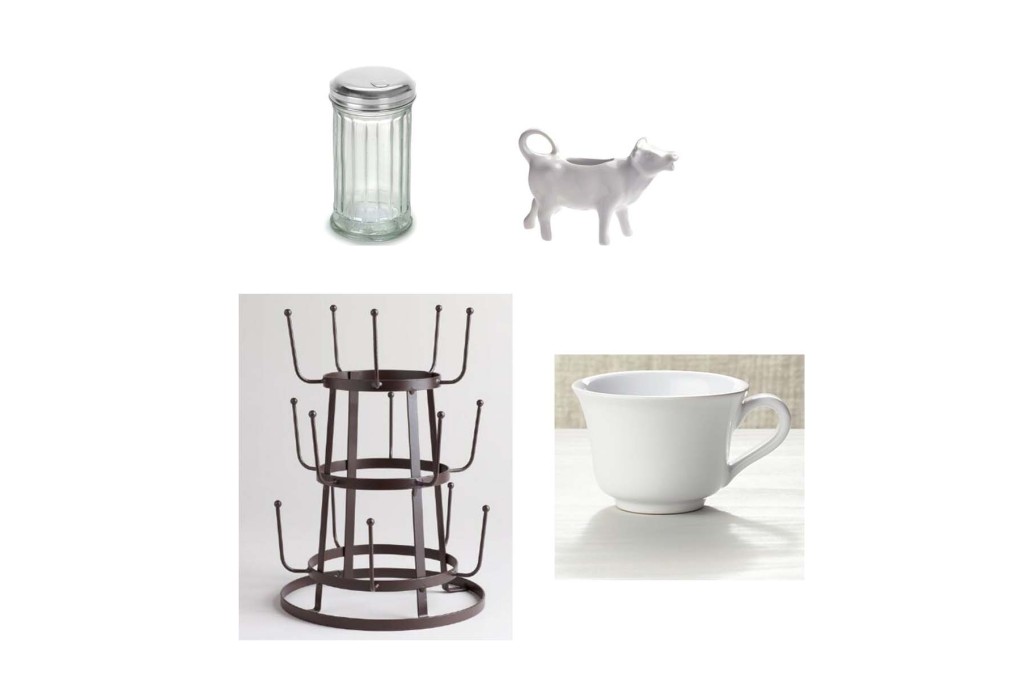 Sugar Dispenser: A lot of people take sugar with their coffee, so a hostess with the mostess must have this readily available. I love this classic restaurant sugar dispenser, mostly because it looks like something Jerry & George would use have used on an episode of Seinfeld.
Cow Creamer: Again, mixing the old with the new. I love this porcelain creamer throwback sitting on my coffee cart. The cow reminds me of home, which is a great way to start each morning.
Coffee Cups: I like the idea of displaying uniform cups, to keep your space looking clean and simple. I also am choosing cups vs. mugs because they can work for either coffee or tea, killing two birds with one stone. Tea served in mugs feels, and looks bulky to me.
Coffee Cup Tree: This coffee cart is small, made for small spaces, so you'll need to utilize every inch of each of the two available shelves. This cup tree gives you the opportunity to store more cups in a small space, and also closes the chunk of space between the top and bottom shelf — less wall showing behind the cart.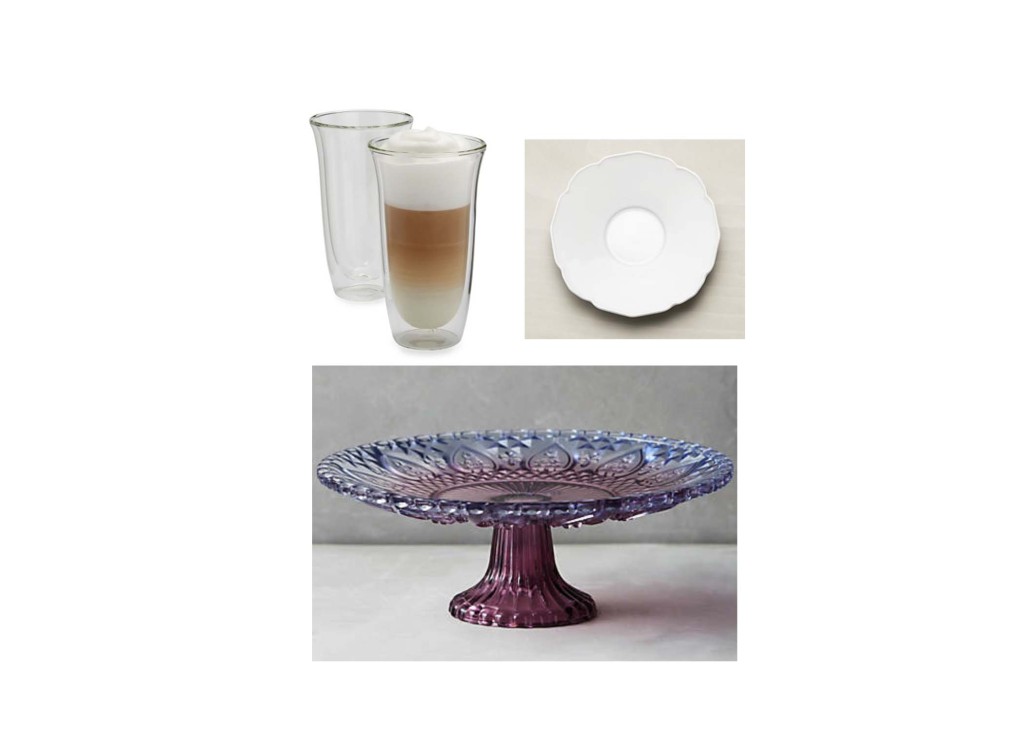 Tulip Latte Glasses: a good latte deserves a special glass. I love the feminine, flared shape of these glasses. They are double insulated so your latte is going to stay hot much longer, which is ideal. I would store these on the bottom shelf, stacked on top of each other, upside down — the last thing you want is dust collecting in them. I like sugar sprinkled on the top of my latte, not dust … and there is nothing worse that additional dusting on a cleaning day.
Saucers: Again, if you're serving tea you need the proper serveware. These scalloped saucers are exactly what you need, stacked next to your latte glasses on the bottom shelf.
Cake Stand: I'm going to use this on the bottom shelf to stack both the tulip latte glasses and scalloped saucers. The acrylic cart has a lip on both shelves, so without a little bit of added height, your glasses and saucers would be lost below the lip. Anyway, who doesn't love a purple glass cake stand?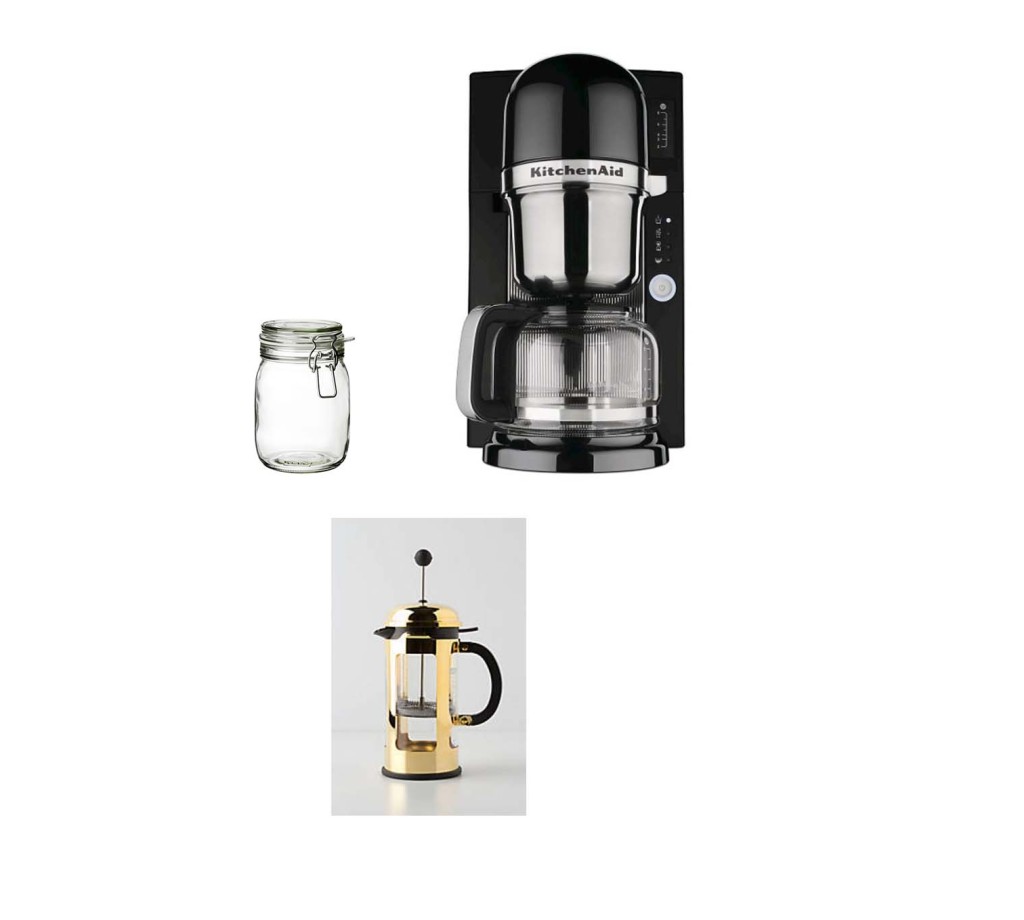 Coffee Canister: to store your coffee, you'll need something that has an airtight seal, to keep it fresh. This jar is perfect 1. Its functional, with the airtight seal 2. Classic look 3. It costs less than $4. Done.
Coffee Brewer: I love the KitchenAid design, and I really like this brewer. Why?
It's a "pour over coffee brewer" — it gives the illusion of hipster, but in reality it works like a good ol' fashion coffee brewer which means it's dummy-proof (for my sake)

I find at coffee shops, most hipster coffee techniques take so much time and yield so little coffee. This bad boy gives you 8 cups of coffee at once, and has a

stay warm

feature that keeps the pot warm for 1 hour after brewing. Ideal.
Ps. this brewer is $30 cheaper at Target than it is at Sur La Table.
French Press: All the above talk about hipster coffee, and my disdain for it, and here I am putting a french press on our coffee cart. The last thing I need is to have to watch a youtube video explaining how this damn thing works each time I want a cup of coffee. Really, it's not for me, it for my husband. So if it must be on there, it must be beautiful … so it must be gold.
I wonder how long it will take me to sneak each of these items on to our credit card over the next 6 months without my husband noticing? Worst comes to worst I tell him I'm proactively building the coffee cart of my dreams so it'll be ready and waiting for us in the states when we get home. That sounds reasonable, right?