Not enough men understand the convenience of rain boots. I see them walking around in the rain, in their deliciously-beautiful leather Chelsea Boots  (most likely not properly treated for water), and can't help but think that women's obsession with rain boots have ruined it for the boys. So maybe they actually do understand the convenience and functionality of rain boots, they just don't want to sacrifice their masculinity to be functional?
We recently got a puppy, which means that potty training is in full effect in our home. We live in a flat on the 4th floor, and my husband has been quite cute about taking her out in the middle of the night to use the restroom. He quickly discovered that he was ruining his weather-treated Ugg moccasins in the rain-soaked lawn. After several days of me nagging him, and his Uggs continually looking worse and worse, he agreed to take quick glance at Nordstrom's selection of "waterproof shoes" — he literally couldn't bring himself to say the words "rain boot".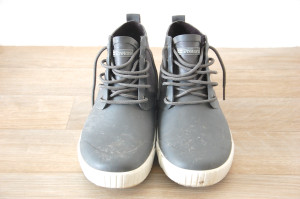 It took him all of about 5 minutes to pick these waterproof shoes. I think the fact that they have laces is what sold him … they have a totally different look than the Women's Hunter boots he got me for my birthday. He wears these with sweats to take the puppy out, and with jeans when we run to the grocery store. I'm not sure there has been a day since they arrived that he hasn't worn them … hence the mud on the top and sides. Shop these boots at Nordstrom, or Amazon for more color options  — he chose "gun metal", as shown in the photo, but they have a greenish tint in person.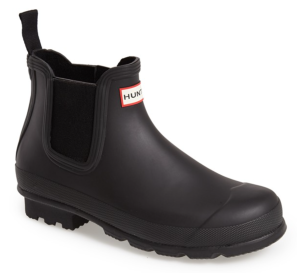 If I didn't have Hunters, I would have pushed him to get these — he would be mortified to walk down the street with me in matching rain boots, so I kept my yip shut. I love that they are more of a traditional rain boot with no laces. Nordies has a great selection, and you get free shipping — I buy as much as I can at Nordstrom, as a opposed to Amazon, just because their return policy is so flexible … also because I love Nordstrom and always seem to find things I NEED when I'm shopping on their website.
Moral of the story: Nordstrom Rules & Boys Drool. So get him a pair of rain boots, and help him understand how wonderful functionality can be.